New World Saigon Hotel offers over 2,000 square feet of unique and functional spaces for business and social events, including three state-of-the-art ballrooms, four modern, versatile meeting rooms and the largest outdoor event venues in Ho Chi Minh City. Our professional event management, culinary and service teams help deliver exceptional functions, conferences and special occasions.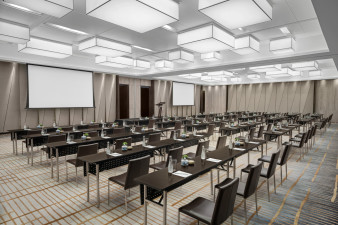 Ben Thanh Grand Ballroom
The 422-square-meter Ben Thanh Grand Ballroom on the first floor is decorated in a contemporary style. As a single space, the hall could accommodate up to 550 people in a theater setting or 372 for a formal banquet or it can be configured into three rooms to accommodate the needs of different functions and occasions. The ballroom features the latest audio-visual systems and a reception area is available for registration and pre-event cocktails.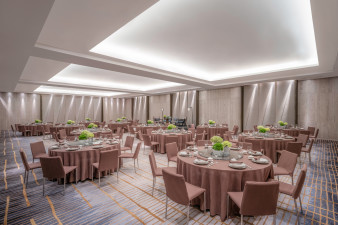 Mekong Ballroom
The stylish Mekong Ballroom on the first floor can accommodate up to 288 guests in a banquet setting. It can be divided into three 100-square-meter Mekong rooms for up to 100 guests each, or divided into two Mekong rooms of 100 and 200 square meters to accommodate 100 and 200 people. This versatile venue has the latest audio-visual and presentation equipment to ensure that every function looks and sounds its best.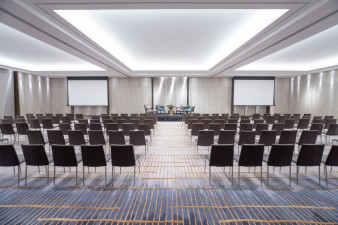 Indochine
The magnificent Indochine is a 200-square-meter expanse that can accommodate up to 220 guests in a theatre setting. It is equipped with the latest sound equipment for both voice and music.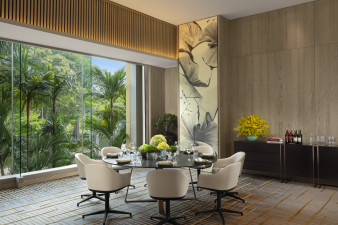 Garden 1
With 55 square meters of space lightened by natural light, Garden 1 is ideal for small meetings, seminars, private gatherings, product launches and other special functions, up to 48 guests in banquet setting. Memorable events can be set up easily in this fully-furnished venue.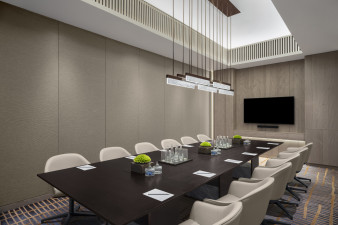 Garden 2
A smart and efficient business space with a meeting area and sitting area, the 30-square-metre Garden 2 is located on the first floor. The Garden 2 could accommodate 12 guests and is the perfect choice for small-scale meetings, such as press conferences and seminars, with the latest audio-visual equipment and all-important technical support.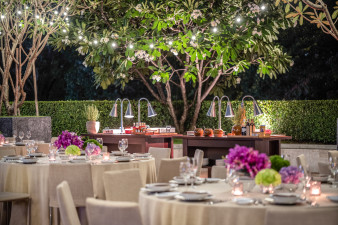 Terrace
A wedding with the sun smiling upon you or a party under the stars – make your celebration even more memorable by hosting it on our Outdoor Terrace. With a capacity to serve up to 350 guests and views of our lake-shaped outdoor pool and small herb garden, it's a venue of magical ambiance in which to create everlasting memories.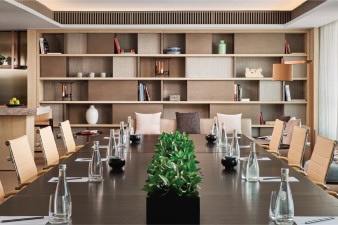 Boardroom
The 81-square-meter Boardroom on the 10th floor is decorated with modern pottery art pieces. Floor-to-ceiling windows offer views of bustling city streets and allow natural light to brighten any daytime event. The Boardroom seats up to 45 and works well for conference purposes, such as board meetings and small company celebrations, with technical support always available.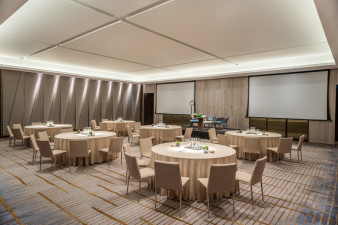 Equipment & Features
Tele-conference facilities
Video conference facilities
Build-in projector and screen
Flat-screen TV
DVD Player
Public Address (PA) system
Programmable light control
Podium
Stage
Wireless and wired Internet connection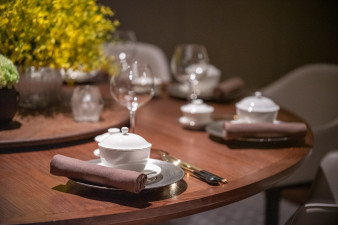 Outside Catering
Whether for business or pleasure, food is an important aspect of any occasion. That's why we are delighted to offer Outside Catering in buffet, sit-down or canapé style services as per guests' requests. With impeccable service from professional staff and the capacity to serve up to 1,000 guests, Outside Catering is an excellent choice for your next work meeting or personal event.