Nestled in a sophisticated and contemporary setting, Black Vinegar serves modern Cantonese cuisine in a warm and sociable ambiance with multiple settings for drinks and dining. Guests may choose fresh seafood from the Crudo Bar, sip specialty cocktails and sake, and mingle with friends in our comfortable and sophisticated dining area or exclusive private rooms.

OPERATION HOURS
Open daily:
Lunch: 11:30 a.m. to 03:00 p.m.
Dinner: 05:30 p.m. to 10:30 p.m.
LOCATION
1st Floor
MENU

CANTONESE EXECUTIVE CHEF
SAM LIANG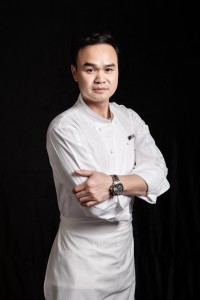 As Cantonese Executive Chef at Black Vinegar, Chef Sam Liang takes his years of experience to shine through, demonstrating his knowledge and passion for sophisticated Cantonese cuisine while putting a specific emphasis on dishes from the popular regions of Vietnam.

Promotion